Race Information for 2 April 2023
Note: 2023 will see us return our event compound and finish line to the Eastern end of the Foreshore near Nobbys Beach.
What you GET!!
Apart from the opportunity to race in a professionally staged major event in Newcastle, you get the following goodies with your entry:
FINISHER medals!! for everyone who finishers. Distributed in the recovery area.

Souvenir race shirt for everyone entered by March 19, 2023.

Race bib number
Electronic timing with live results. Note we use a reusable chip that you must return in the recovery area. This must be attached to your shoe.
You also get:
One of the most picturesque courses in Australia.
A major traffic control plan to allow use of main roads.
Medical services on site and mobile

Bus transport to the 10km Start at Bar Beach (before the race)

The best MC's in the business.

Pre and post race communication.

Donations made to local Surf Life Saving, and other sport and social Clubs
Regular drink stations.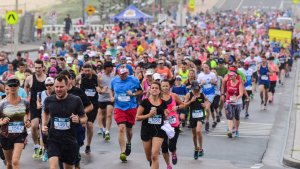 Certified Marathon Course
Our course will be remeasured in 2023. Below is a certificate as to the correct 2022 measurement of the Marathon course by AIMS.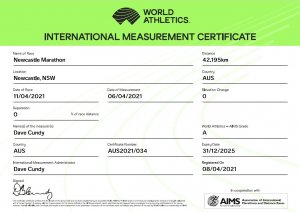 Race kit collection and late entries
Please your phone as we have a new COVID safe race kit collection process. If collecting for others you need written permission. We suggest Team captains make the pick-up arrangements very clear to avoid collection or non-collection of kits.
Due to the scale of the event we suggest you pick up your race kit on Saturday for Sunday's events.
SATURDAY 1 APRIL 2023
10am - 4:30pm Foreshore Park near Nobbys Beach. Look for the marquee
SUNDAY 2 APRIL 2023
Race Day ! ALL EVENT PICK UP IS AT THE FORESHORE
BUSES WILL TAKE YOU TO THE 10KM START IF YOU NEED TO PIKC UP ON SUNDAY. PICK UP IS FORT DRIVE NEAR NOBBYS ROUNDABOUT
On-line entry Fees
Entries received on race day/weekend will pay an additional $10 late entry fee
| | | | |
| --- | --- | --- | --- |
| Event | Early Bird: 1 Oct 2022- 11 Dec 2022 | Standard: 12 Dec 2022 - 19 March 2023 | Late: 20 March 2023 – 2 April 2022 |
| Marathon 18+ | 110 | 130 | 140 |
| Marathon 4 Per Relay 12+ | 220 | 240 | 260 |
| Half Marathon 16+ | 90 | 95 | 115 |
| 10km Adult | 60 | 65 | 75 |
| 10km Child | 50 | 55 | 65 |
| 5km Adult | 50 | 55 | 65 |
| 5km Child | 40 | 45 | 55 |
| 2K4FUN | 35 | 35 | 40 |
Corporate or Team Entries
If you are wish to pre or post pay for a large number of competitors for your company and or organisation, please contact us and we can provide you an option to allow them to enter without paying and we will send you an account for payment prior to the event.

Contact : paul@hevents.com.au
Race Categories
Adult entrants will automatically be assigned to their respective age categories when entering their date of birth during the entry process. Ages are as on race day. Adult age categories are: 18-29, 30-39, 40-49, 50-59, 60-69 and 70+.
Only children aged 12 years or older can be entered in the 10km run. Children over 8 -11 years can enter the Walk , however all children under 12 years should be accompanied by an adult walker/runner. Strollers are allowable in the walk however should start at the rear of the pack and stay to the left on the break-wall. Children will be entered into following age categories: 8-11(walk only), 12-13, 14-15 and 16-17.
Note: Special consideration will be given to experienced runners under 12 years of age. Please contact us for details on: (02) 4934 8138.
Race Timing
Computer timing chips will be distributed to each competitor. You must wear the chip on your shoe. It must be laced into the shoe. Please remember NO CHIP equals NO RESULT. Interim times will be available live on race time. PLEASE WEAR YOUR RACE BIB (race number) ON YOUR CHEST FOR THE ENTIRE RACE.
Prizes
ALL RUNNERS/WALKERS RECEIVE A FINISHER MEDAL ...IF YOU FINISH!
Also, place getter medals will be awarded to 1st, 2nd, and 3rd prizes in all age categories except the 10k walk category (which is a participation only category). Overall Male and Female winners are also awarded Trophies at the stage as soon as possible post race. If due to COVID rules there will be no presentation of Age Category prizes, then Age category prizes can be collected from the admin tent after the race. They are not posted out.
Race Presentation
A presentation will take place at 11am. Overall winners and category prize winners can can collect their trophies from the admin tent.
Left Bag transport/security
We will have a secure bag area at both start lines. Please only bring essential items.
Getting there and Parking
10km event - Buses available from 6.30am - 7.45am from the car park at Crn Hannell and Honeysuckle Drive and near Nobbys roundabout on fort Drive, to take you to the start line.
Marathon, Half Marathon, 5km, 2K4FUN Parking - paid parking will be available at The Argyle St and Bolton St Car Parks, 1.5km from the site in Newcastle CBD. There is also additional paid parking in the Honeysuckle area off Wright Lane just 400m from the site. DO NOT PARK in Honeysuckle Drive harbour side.
Light Rail
The Light Rail is available from Hannell St/Honeysuckle Drive (just near free parking) and stops along the Hunter St precinct. The closest station to the event compound is Pacific St called Newcastle Beach stop.
Please do not park in driveways and respect the Sunday sleep-in by keeping noise to a minimum.
10km event Buses from Finish to Start (before the event)
10km event - Buses available from 6.30am - 7.45am from the car park at Crn Hannell and Honeysuckle Drive and also Nobbys roundabout near Fort Drive, to take you to the start line ONLY
Spectators
Spectators are allowed as per NSW health orders.
Aid Stations - COVID CHANGES
If you can be self sufficient, we recommend this. We will however, offer drink stations using COVID safe practices.
Aid Stations will be situated no more than 3.0km apart. Water and Electrolyte drinks will be available at some stations stations. These will all be self serve. Tables will be well spread out and if you are taking a drink please slow sufficiently to take the drink without disturbing the other drinks.
Look out for our vollies from Cooks Hill, Nobbys SLS Clubs, Newcastle Rowing Club, 530 runners and Maccas mob
First Aid
Experienced and qualified medical personnel will be available at the start, on the course and finish Race compound.
Wheel Chair Participants and PRAMS
H Events welcomes all participants, and encourages active participation by all individuals in sports events, our recent experience of congestion along the break-wall of Nobbys, has lead us to the decision to not offer a specific wheel chair category in any of the events. We are happy to look at individual circumstances, and will endeavour to provide a suitably challenging course for competitors with special needs. Please contact us directly if you have any concerns or queries.
Volunteers
The event requires over 120 race crew from local Running, Social and Surf Life Saving Clubs. All organisations will be the recipients of donations or gifts for work with their projects. If you are interested in helping out, contact us at admin@hevents.com.au and we will put you in touch with the volunteer coordinator.
Accommodation
If you are looking to stay in Newcastle, check out the link below for great prices at the Holiday Inn Express in Newcastle. Just 2km from the main start line for the Marathon, Half Marathon, 5km and 2km and 500m from the bus to the 10km start line (at Bar Beach)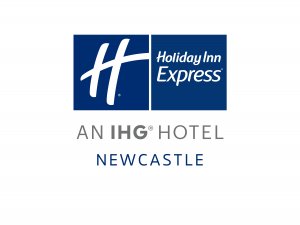 Results
Results will be available live on race day. They will be published on line later that day.
Share:
Event Races
Course Video
Updates